How We Can Help Grow Your Gastroenterology Practice
According to data from
The Crohn's & Colitis Foundation of America (CCFA),
the number of people living with inflammatory Bowel Disease (IBD) continues to rise.
The latest estimates indicate that:
1.6 million Americans have IBD

Each year 70,000 new cases of IBD are diagnosed

Pediatric cases are also on the rise, with as many as 80,000 children diagnosed each year
Watch the Video: How We Can Help Grow Your Gastroenterology Practice.
Intravenous biologic medications have improved gastroenterology patient care in recent decades. These drugs target the individual molecules that trigger inflammation, and because the administration of these "smart" therapies is intravenous, it provides faster symptom relief with fewer adverse effects.
Even though more doctors are prescribing biologics to help manage chronic illness in gastroenterology patients, for many gastroenterologists, offering in-office infusions is not a priority at this time.
Many physicians shy away from opening an in-office infusion suite because they feel they do not have the necessary resources to operate it efficiently. While they recognize that the gastroenterology market is growing, they fear that dealing with pre-authorizations, inventory, and reimbursement will interfere with their ability to care for patients and overwhelm their staff with additional duties.
These concerns are valid but unnecessary because with the help of an in-office infusion management company, gastroenterologists can dedicate their full attention to patient care without fear of overworking their current staff.
What an Infusion Management Services Company Can Do for Your Practice
Having an in-office infusion suite managed by Altus Biologics allows you to grow your practice without many of its headaches.
We offer:
Full Revenue Cycle Management
We employ the most qualified and dedicated professionals in all critical areas of your revenue cycle to ensure your infusion suite operates as efficiently as possible. 
We manage your drug and supply inventory

Our team will assist in reimbursement claim submission

We follow up on claims to ensure timely payments
Patient Services
Just like you, patients are at the center of everything we do. Our company policy is to treat each patient like family, and patients love us for it.
Our team will handle patient scheduling and re-scheduling. Our team will send reminders to your biologic patients to confirm and/or reschedule appointments.

We perform the necessary due diligence before each appointment to verify plan eligibility and benefits verification

We help connect eligible patients with relevant drug assistance programs 
Site Set-Up
Our infusion suite buildout team will assist in creating a comfortable, inviting, and relaxing space for your patients.
We'll help you select the ideal space within your office to set up your new infusion suite. We will help you choose the color palette, furniture, and décor.
Clinical Services
Are you worried about having to find a qualified, experienced infusion nurse? No need! We supply necessary clinical staff to work at your infusion center.
Our clinical staff comprises some of the most qualified infusion nurses in the country. We ensure they have the necessary licenses and certifications to work in your area, and we provide ongoing training to ensure they comply with all current best practices.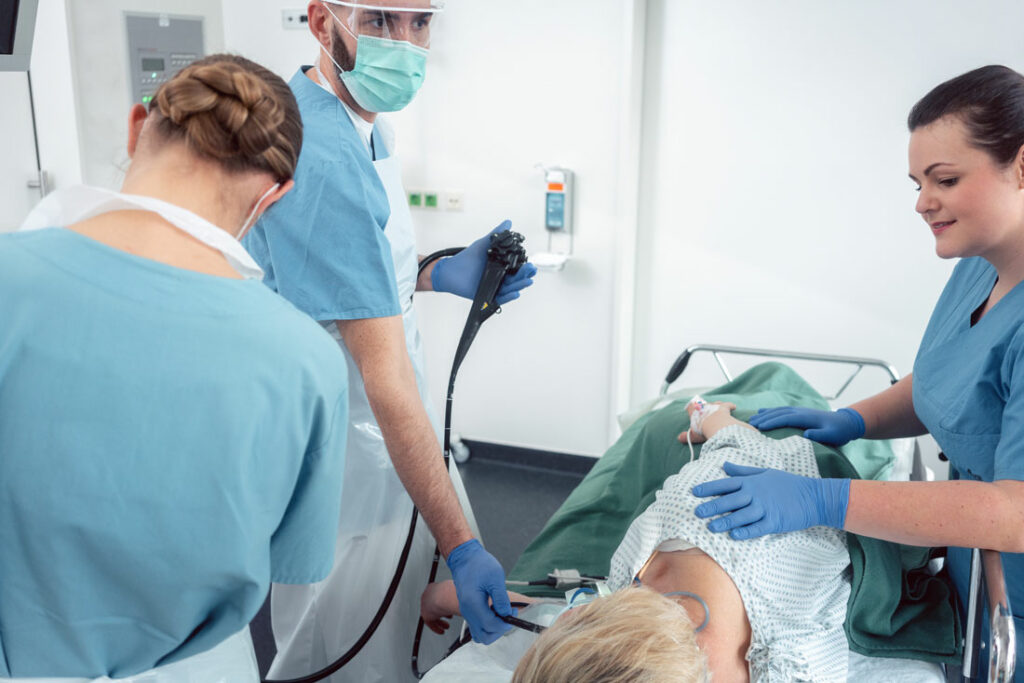 While we manage your in-office infusion suite, you retain complete control of your patients and can focus on patient care.
Offering in-office infusion therapy is the best way to increase treatment compliance and build stronger doctor-patient relations.
Contact us today to learn in detail how our services can help you grow your gastroenterology practice.