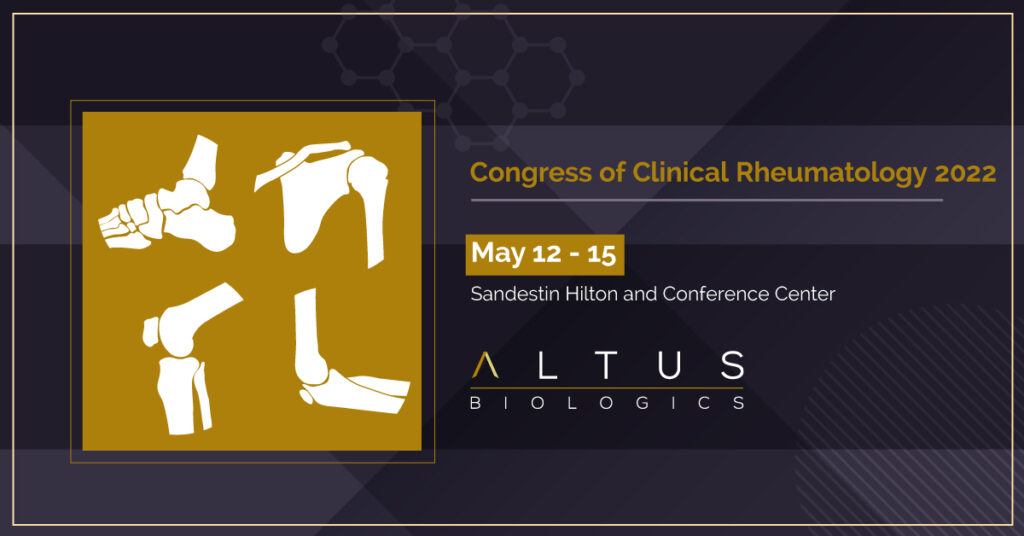 America's Premier Independent Rheumatology Symposium
Congress of Clinical Rheumatology 2022
Looking for quality, Rheumatology Practice Solutions? We'll be at the State of Congress of Clinical Rheumatology 2022!
Altus Biologics provides excellent Rheumatology Practice Solutions like yours who are searching to improve their patient's experience.
Rheumatology Practice Solutions
We understand your priority as a physician is the wellbeing of your patients, but between the challenges of obtaining prior authorizations, following up on reimbursements, and managing your practice, until now, you probably have felt that you didn't have the time or resources to offer your patients the convenience of the in-office infusion center or other biologic treatments.
That is where the expertise of Altus Biologics can assist your rheumatology practice by providing more integrated care for your patients through the establishment of an in-office infusion center, access to biologic offerings, or by expanding your existing operation.
For more information on how Altus Biologics can help your Rheumatology specialty practice improve patient care, patient access to treatment, and productivity call us at 855.692.5887. It will be our pleasure to assist you.
Benefits of an In-Office Infusion Center and In-Office Administration of Biologics
Deciding to establish an infusion center or offering biologics in your office has many benefits for you, as a physician, and for your patients.
DIRECT BENEFITS FOR YOUR PRACTICE
You retain complete control of your practice
Higher quality of care
Improve patient treatment compliance
Enhanced doctor-patient relationship
There is no incremental workload for your staff
PATIENT BENEFITS
Improved patient satisfaction
The convenience of receiving their treatment in a supportive and familiar environment
More educational resources
Personalized treatment
Just like you, we care about the quality of the healthcare experience your patients receive. For this reason, our motto has always been,
"We Treat Each Patient Like Family."
Aside from helping you build stronger relationships with your patients, Altus Biologics can provide all the necessary tools and expertise required to create a successful in-office infusion center or biologic offering.
BY CHOOSING US AS YOUR PARTNER, YOU WILL ENJOY THE FOLLOWING SERVICES: