San Antonio Nurse Shares 31 Things She's Learned From COVID-19
Kristen Knott is an ICU nurse at North Central Baptist Hospital. Earlier this month, she shared on her Facebook page a post about the 31 things she has learned working as a nurse during the COVID-19 crisis.
Her post went viral and earned her an interview on Good Morning America. The producers of the show contacted her friends and family to have them share their appreciation through video messages.
The response was overwhelming. Everyone who knew Kristen loved and admired her, including some of her favorite TV actors.
Kirsten is a fan of the popular TV series Grey's Anatomy, so imagine her surprise when actors Eric Dane and Kate Walsh sent in videos praising her for her selfless work during these difficult times.
The Facebook post came as a result of Kirsten working 31 days straight in the hospital's ICU. She did not have a single day off during the month of July, and her shifts were often 12-13 hours long.
Before her work marathon in July, Kirsten spent 8-weeks working at a hospital in New Jersey. She decided to go where she felt her work was most needed, and New Jersey was ground zero at the time.
After everything she has seen and felt, she wanted to share her experience and give others a glimpse of how hard it is to be on the frontlines of this crisis.
The long and emotionally charged days took a mental and physical toll, but somehow, she pushed through.
She explained that the purpose behind her social media post was to show just how dangerous this disease is and to remind us of what's important.
"It's not about us, it's about the patients, it's about the families, and it's about healing people."
The lessons she shares in her post are touching and sincere. Some are funny, inspirational, heart-wrenching, and a few of them are sobering as to how merciless this illness is.
"Nothing discriminates from this virus. I just wish people would understand that it can hit anyone."
In her video, she talks about what she calls Maskne (mask acne) and how it's a real thing. How comfortable shoes are a nurse's best friend and how music at work helps to lift everyone's spirits.
Lesson number 30 is one of the most touching. In it, she says,
"It's ok to cry. And to feel. It means you're human."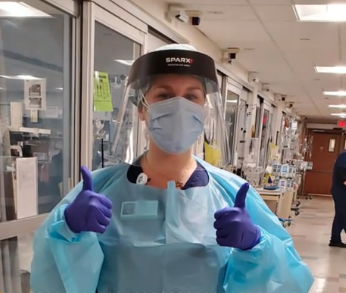 Image source: goodmorningamerica.com
To us at Altus Biologics, lesson 31 resonates with our beliefs. For her final lesson she wrote,
"You aren't JUST a nurse."
That is right, nurses are much more than just a job title. They are the support the patient and their families need to help them through their toughest times.
Altus Biologics wishes to thank all the healthcare workers who are putting their lives at risk to help save others during the COVID-19 crisis. You are our heroes.